Hey cuties ♥
how are you? I'm a mess
*ugh
sorry! This post maybe isn't useful anymore but I have to post it - I'm a person that doesn't like incomplete things, you too? - So here it is the second part ~
Oh sure, I have a nice thing to tell you ~ you have a chance to get an outfit that you like made by me, you just have to draw it and send it to me! If you are interested in it take a look at this post on my tumblr ♥
Fate/Kaleid Liner Prisma Illya 3!!
๑
website
Illya and the gang have finished their battle against the heroic spirit residing in the eighth class card. They're back in vacation mode again, looking to make the most of what they have left of summer break. But their hopes get crushed in the blink of an eye. An all-too-unrealistic silhouette appears before them when they go to investigate the strange event at Mount Enzō. After a short skirmish, the entire space ends up being warped. Illya wakes up in a wintry Fuyuki City... in a parallel world. This is the world where Miyu was born and raised.
Fukigen na Mononokean
๑
website
In a certain tea shop there lives a man called the Mononokean. This morose looking man gained his name for his ability to work with yōkai, guiding the ones that wander in our world into the next.
Handa-kun
๑
website
Handsome teenage calligrapher Sei Handa is worshiped by all his classmates as an aloof superstar--too bad Sei's inherent negativity and neurotic personality make him believe that everyone actually hates him.
Hatsukoi Monster
๑
website
Kaho Nikaidō finds herself head over heels for a mysterious stranger after he saves from being hit by a truck. Kaho has a few surprises in store for her when she discovers that her knight-in-shining-armor is her landlord's son — and in the fifth grade.
Hitori no Shita the outcast
๑
website
Chou Soran leads a very common college student's life until he finds himself caught up in a terrible incident that happened in a small village. As he was walking through a graveyard, he is assaulted by zombies. Thinking that it was over for him, a mysterious girl carrying a sword suddenly saves him and disappears.
Kono Bijutsubu ni wa Mondai ga Aru!
๑
website
It focuses on an art club in a certain middle school, and its members: Subaru Uchimaki, who is a genius at drawing faces, but only wants to draw the perfect 2D wife; Colette, a rich troublemaker who never stops making mischief; and the club president, who sleeps through sessions and collects sleeping aids. Mizuki Usami is the only person in the club who wants to do art club-like activities, and constantly struggles to do so.
Love Live! Sunshine!!
๑
website
The girls of Uranohoshi Girls' High School are swept into idol fever, wanting nothing more than to become the next-best School Idol group. And they plan to do just that. Chika Takami brings together eight of her classmates to form Aqours, their own idol group.
Mahou shoujo? Naria☆Girls
๑
website
Urara, Hanabi, and Inaho are three girls who aim to become nationally-renowned characters by creating animation of themselves! They chose the magical girl theme to catch the attention of everyone from children to adults! Can they safely become popular characters in a one-cours magical girl anime?
New Game!
๑
website
Having been a strong fan of a particular video game, Aoba Suzukaze, a high school graduate, begins working at the game's developer, Eagle Jump, as a CG artist. As she works on modelling and designing characters for games in development, she becomes acquainted with her fellow co-workers in the character design department, as well as those from across the company.
Orange
๑
website
Naho Takamiya is a timid 16-year-old girl. One day, she receives a letter from her future self detailing actions she must take to prevent Kakeru Naruse, the new transfer student, from sinking into depression and taking his own life.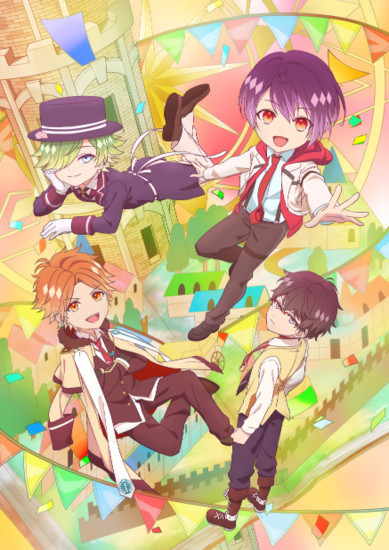 Ozmafia!!
๑
website
Having transferred into Oz Academy, Scarlet finds himself already in trouble. The three boys who save him in his time of need are named Caramia, Kyrie, and Axel.
As always let me know what you think about these new anime, or just tell me your favorite anime, the one you would like to see a new season or also a live action! ^-^
For now it's all, if you have any suggestion let me know cuties ♥
Have a nice day and take care of yourself ~